Reviews
"Deaf actors may not have the same tools that most actors do, but the gifted men and women in this splendid production achieve the same ideal ends, lighting up the lives of their characters from within, even when the light only reveals the darkness of their confusion, frustration and despair."
- New York Times
"The casting of the other kids is similarly on the money, from Daniel N. Durant and Alex Boniello playing and voicing beleagured Moritz and Joshua Castille as sexually ambivalent Ernst."
-Deadline
"This revival of Spring Awakening is that rare reimagining that furthers the themes of the original work, rather than plastering over them with an auteur's vision. It's hard to envision it being staged any other way in the future. "
-TheaterMania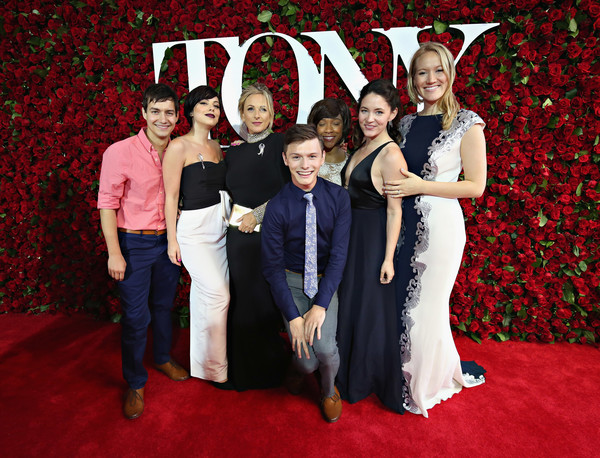 The show was nominated for Best Revival. Watch the performance below.
Run Dates:3/3/2017 - 3/26/2017
Directed By: Michael Arden
Cast:
Austin McKenzie - Melchior
Sandra Mae Frank - Wendla
Katie Boeck - V/O Wendla
Daniel Durant - Mortiz
Alex Boniello - V/O Mortiz
Krysta Rodriguez - Ilse
Joshua Castille - Ernst
Daniel David Stewart - V/O Ernst
Andy Minteus - Hanschen
Treshelle Edmond - Marta
Kathryn Gallagher - V/O Marta
Ali Stroker - Anna
Alex Wyse - Georg
Amelia Hensley - Thea
Lauren Luiz - Melitta (Thea's Sister)
Miles Barbee - Otto
Sean Grandillo - V/O
Russell Harvard - Adult Man
Marlee Matlin - Adult Woman
Patrick Page - Adult Man
Camryn Manheim - Adult Woman
Swing Team
Robert Ariza
Lizzy Cuesta
Elizabeth Greene
Daniel Marmion
Anthony Natale
Ren
Van Hughes
Alexandria Wailes
Behind the Scenes:
Blake Silver - Assistant Director Spencer Liff - Choreographer
Ben Stanton - Light Designer Gareth Owen - Sound Designer
Dane Laffrey- Scenic Designer
Elizabeth Greene, Anthony Natale & Shoshannah Stern - Sign Masters